AMICA e.V. ist eine Frauenrechtsorganisation, die sich für gewaltbetroffene Frauen in Krisen- und Kriegsgebieten einsetzt.
Für das Recht auf Selbstbestimmung, Gerechtigkeit und Teilhabe!
empowering women – moving society!
Sexual offences, rape an genderbased violence – this is everyday life for many women in wars and crisis regions. AMICA e.V. is a feminist women's rights organisation supporting women and girls in conflict areas.
psychological, legal, medical and economic aid for women and girls
trainings und exchange programs empower local women's associations to build a strong and solidaric civil society
work on advocacy and public relations enable structural changes in politics and law – for gender equality and peace.
"Women do NOT want to be victims, strong women all over the world fight for stability and self-determination!"
Hala Bughaigis, Libyan lawyer and founder of the think tank Jusoor in Tripoli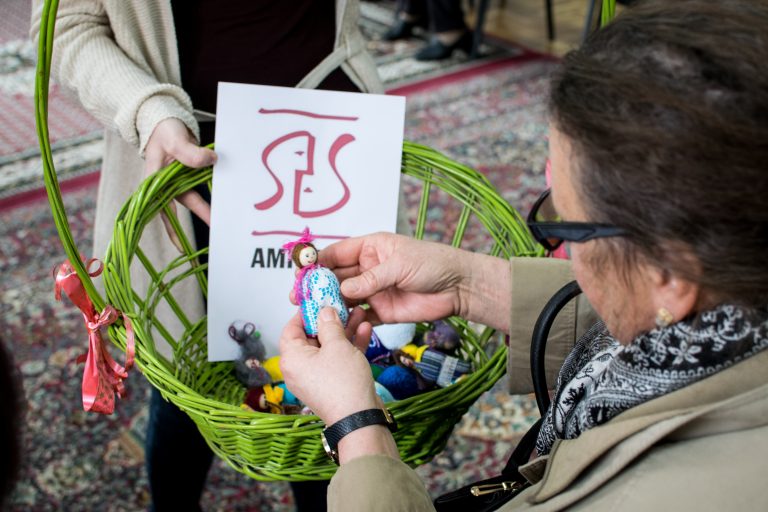 For international friendship: AMICAs worldwide!
Do you know worry dolls? When you get to sleep in the evening you tell them about your worries, put the dolls under your pillow and the worries will be gone by the morning – that's what is said.
With AMICA womencome togehter. As a sign of solidarity people create our little worry dolls für women and girls in war regions. They are often all alone with their worries and sorrows. On every monitoring trip our project assistents bring the little dolls and with them the thoughts and solidarity of the builders…
From hand to hand and from heart to heart….
You can order the AMICAs as a motive on posters, postcards oder little plasters. Shopping in AMICAs shop you support our project in war and crisis regions. Every AMICA is a symbol against the violence women and girls suffer from in armed conflicts. Every day. In almost every war in the worls.
Become a part of it!
This is how you can get active and build a worry doll yourself!