AMICA e.V. ist eine Frauenrechtsorganisation, die sich für gewaltbetroffene Frauen in Krisen- und Kriegsgebieten einsetzt.
Für das Recht auf Selbstbestimmung, Gerechtigkeit und Teilhabe!
30 years of women's rights work worldwide
AMICA turns 30! A milestone that makes us celebrate, but also reflect. To mark this occasion, we are organising an anniversary conference on 3rd and 4th November in the rooms of the FABRIK in Freiburg on the topic "Auf:bruch in eine feministische Zukunft" ("departure into a feminist future").
Based on experiences from practical women's rights work on gender-based violence in conflict and post-conflict regions, we will explore feminist responses. Together with international practitioners, activists and scholars we will discuss potentials and challenges of global partnerships from a feminist perspective: What does feminist solidarity mean in times of global crises? How can we establish eye-to-eye partnerships between civil society actors? And finally, what is needed here and now to combat gender-based violence in wars and to support survivors?
We are looking forward to exchange and debate together!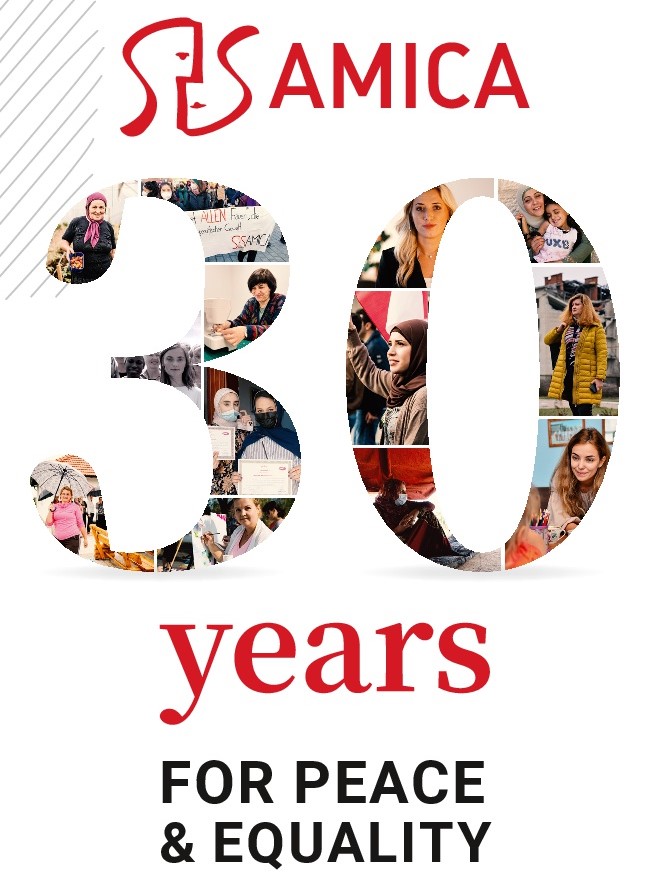 UN Resolution 1325 on Women, Peace, and Security says that women should have "equal participation and full involvement." The resolution, adopted twenty years ago by the United Nations, is a milestone for all women who live in regions affected by war and crisis and who stand up against violence and for peace. Although the text is groundbreaking, its worldwide implementation has been unfortunately inadequate. What (hasn't) happened?
Who better to speak to this issue than our partners? On the resolution's 20-year anniversary, we want to lend an ear to their experiences and demand together: Women must take part in peace processes, because lasting peace is not possible without participation and equality!
» Want to learn more? Under www.20-jahre-1325.org you'll find all the videos, interviews, and our demands concerning the implementation of the resolution.
1.
Empowerment

on the individual level:
We provide psychological, legal, medical, and economic services to women and girls in regions affected by crisis and war (including psychosocial counseling).
2.
Support

of civic organizations:
We support and guide the development of stable, independent, and well-connected women's organizations with the goal of fostering women's civic engagement.
We provide trainings, knowledge, and know-how on the stabilization of these structures and networks.
3.
Transformation

at the structural level:
We advocate for transformation towards gender equality by supporting peacebuilding and gender equality policies at the societal and political level.
We offer social education and prevention work about violence against women and wartime sexual violence, as well as their causes, consequences, and potential countermeasures.
AMICA was founded in Freiburg in 1993, during the war in former Yugoslavia. The outbreak of the Bosnian War in 1992 caused great dismay in Europe. After two world wars, it hardly seemed possible that another war could occur in Europe. Many people in Freiburg decided that they would not stand idly by as yet another geopolitical war destroyed human lives. They organized supply transports to Tuzla, a city in the heart of the war zone.
Originally founded as a humanitarian aid organization, AMICA today is an internationally active non-governmental organization supporting women and girls in crisis regions and post-war zones.
Our Vision

For a peaceful, equitable world free of violence against women.