Our partners
in Germany
Photo: MiNZ&KUNST
AMICA is part of many nationwide and local networks, coalitions, and task forces. In collaborating with these other organizations on various topics—gender and women's rights, gender-based violence, the implementation of UN Resolution 1325, development cooperation, and war and peace policies—we bring our expertise to the table and seek to effect social change. These synergistic exchanges continually give rise to new ideas.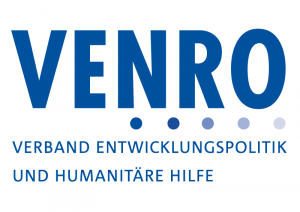 VENRO (Association of Development Policy and Humanitarian Aid) is the umbrella association of development policy/humanitarian aid NGOs in Germany. Their central goal is to overcome global inequality and worldwide poverty. The association advocates for the realization of human rights and for the provision of basic needs.
The Women's Network for Freedom advocates for a more peaceful society. This includes mutual respect, constructive conflict management, intercultural understanding and reconciliation, as well as civic peace services worldwide. The realization of equality is central to a peaceful culture; this realization includes ending violence towards women and implementing gender equality for women, men, and transgender people.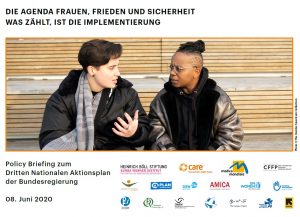 Bündnis 1325
This civic coalition is a merger of NGOs that promotes the implementation of the UN Resolution 1325 "Women, Peace, Security" (» learn more: Resolution 1325) and drafts recommendations, criticisms and demands of the German federal government for human rights- and gender equality-based security and foreign policy (» learn more: 1325 Coalition Policy Briefing).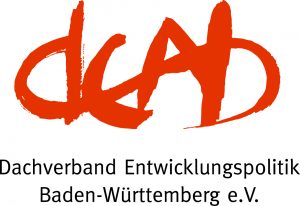 The DEAB (Baden-Württemberg Association for Development Policy) informs, advises, networks, provides training, and represents the concerns of its members in politics and society. Furthermore, the DEAB serves as a contact for all questions, concerns, and topics in the field of "One World" and development policy. Employees in our headquarters in Stuttgart and in offices in Mannheim and Ulm are available and happy to help.
Gratia (Protestant Women's Foundation in Baden) is a community foundation by and for women. Gratia supports women in their involvement for an equitable and peaceful world. Gratia supports women's initiatives within Baden's state churches and worldwide partner churches.

From its inception, AMICA has worked in close relationship with the Women's Associations of the Northern Protestant Church. One of the goals of this collaboration is to end sexual violence as a tactic of war and to aid victims of sexual violence. With the aid transports to Bosnia in 1993—before AMICA had even been founded—the Women's Associations were involved, preparing toiletries and care packages to be sent from Freiburg to Tuzla. The close bond between the Freiburg office and the Women's Associations of the Hamburg/Flensburg area still stands today (» learn more: Ute Morgenroth, board member and Birgit Wulf-Pfeiffer, supporter). Network meetings are organized regularly in order to coordinate joint activities.

In total, Fabrik (The Factory for Crafts, Culture, and Ecology) is comprised of 25 different businesses and organizations with approximately 150 employees, who work on-site and characterize Fabrik's mission. The group is diverse, but they have a common purpose: the basis of all of their entrepreneurial and social action is working in solidarity and in a sustainable way.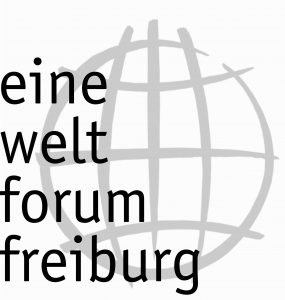 The Eine Welt Forum Freiburg (One World Forum Freiburg) is a network of associations, initiatives, and education institutions that are based in the greater Freiburg region and are involved in promoting lasting, globally equitable development. In the One World Forum, members and other dedicated individuals, as well as other active associations and initiatives in the region, have the opportunity to participate in a lively network, to find mutual support, and to carry out activities together.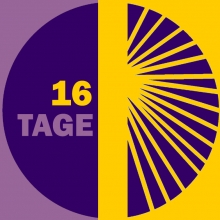 This action group is comprised of groups, organizations, institutions, and individuals who have come together to organize the "16 Days against Violence towards Women" during the campaign period between November 25th (International Day for the Elimination of Violence against Women) and December 10th (International Human Rights Day). Their common goals are to outlaw and to end violence against women. Group members, days of action, events, as well as collaborations and other activities, contribute to the realization of these goals.